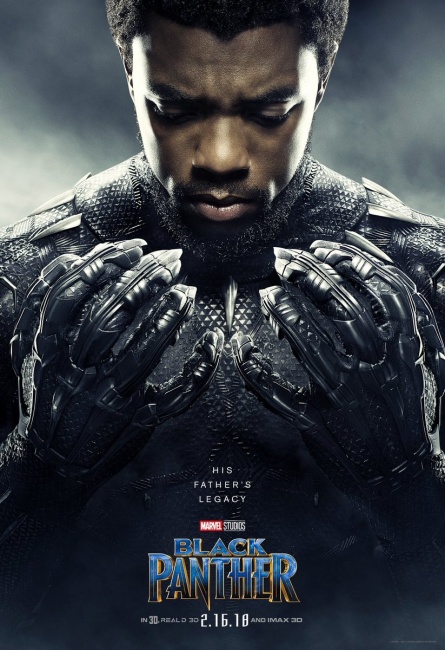 Ryan Coogler's
Black Panther
posted the second best second weekend showing ever (not adjusted for inflation), earning $108 million, trailing only
The Force Awakens'
amazing $149.2 million second frame.
Black Panther
is now tied with
Jurassic World
for the second fastest ascent to $400 million in the North American market, with both films taking just ten days to reach that mark. While it is true that ticket prices have risen since
The Force Awakens
and
Jurassic World
were released, it should also be noted that
Black Panther
is performing its box office magic in February, not during the traditional box office hot seasons like the Christmas holidays (
The Force Awakens
) or the early summer (
Jurassic World
).
Black Panther
is also singlehandedly sparking the sagging 2018 box office. After boosting the total of the top 12 films nearly 60% year-over-year in its first frame, Black Panther raised the total of the top 12 another 57.5% in its second, when compared with the same February weekend last year when Jordan Peele's
Get Out
commenced its ultra-leggy run with $33.4 million.
Black Panther's
continuing success stems from its broad appeal to a diverse audience, the most ethnically-balanced crowd ever attracted by a superhero film. The demographic makeup of
Black Panther
audiences changed a bit in the second weekend as Caucasians accounted for 37% of the crowd (versus 35% in week one), while African-Americans made up 33% (down from 37% in week one), with Hispanics at 18%, Asians at 7% and Native Americans/others at 5%.
Soaring up the list of highly successful Marvel Cinematic Universe films,
Black Panther
, which posted the smallest percentage decline in MCU history (-46.5%), will soon eclipse
Captain America Civil War
($408 million),
Iron Man 3
($409 million), and
Avengers: Age of Ultron
($459 million) to become the #2 film in the MCU. Only Joss Whedon's original
The Avengers
($623.4 million) stands any chance of not being surpassed by
Black Panther
.
Weekend Box Office (Studio Estimates): February 23-25, 2018

Film

Weekend Gross

Screens

Avg./Screen

Total Gross

Wk#

1

Black Panther

$108,046,000

4,020

$26,877

$400,000,422

2

2

Game Night

$16,600,000

3,488

$4,759

$16,600,000

1

3

Peter Rabbit

$12,545,000

3,707

$3,384

$71,290,702

3

4

Annihilation

$11,000,000

2,012

$5,467

$11,000,000

1

5

Fifty Shades Freed

$6,915,000

3,265

$2,118

$89,560,780

3

6

Jumanji: Welcome to the Jungle

$5,650,000

2,519

$2,243

$387,284,215

10

7

The 15:17 to Paris

$3,600,000

2,752

$1,308

$32,257,752

3

8

The Greatest Showman

$3,400,000

1,601

$2,124

$160,766,870

10

9

Every Day

$3,103,996

1,667

$1,862

$3,103,996

1

10

Early Man

$1,700,000

2,494

$682

$6,779,422

2
Black Panther is already the #1 film released in 2018 in the domestic market, and frankly it appears that it just might be in the top spot at the end of the year as well. Overseas Black Panther has earned $304 million for a global total of $704 million, and the film is yet to open in China, Japan, and Russia. Unlike many other superhero films, Black Panther will likely make the majority of its money here in North America simply because the character is not as familiar to overseas audiences as other denizens of the Marvel universe.

Second place went to Warner Bros.' R-rated comedy Game Night, which earned $16.6 million from nearly 3,500 theaters. Game Night, which has a solid 81% positive rating on review aggregator Rotten Tomatoes, earned a "B+" CinemaScore from opening weekend audiences, which skewed female (56%), and much older with just 14% of the crowd under 25, and a whopping 70% over 35.

In spite of the demographic problem, Game Night got off to a fairly good start considering the lack of oxygen in a marketplace dominated by Black Panther. Game Night will see immediate competition for its older audience from Red Sparrow, but the $37 million production features a great ensemble cast led by Jason Bateman and Rachel MacAdams, as well as some solid laughs, so it just might stick around long enough to make a little money. Warner Bros. loves Game Night director John Francis Daley, who played Sam Weir on Freaks and Geeks as well as Dr. Lance Sweets on Bones, and has named Daley to direct the long-in-the-womb Flash/Flashpoint movie (see "Raimi on KingKiller").

Sony's Peter Rabbit continues to have the youth market pretty much to itself, and will likely continue to do well until Ana DuVernay's adaptation of A Wrinkle in Time debuts on March 9. So far the $50 million animated/live action hybrid has earned $71 million, almost all of it in North America.

Paramount's arty science fiction/horror mash-up Annihilation, which stars Natalie Portman, earned $11 million from just over 2,000 theaters. Critics loved the film, giving Annihilation an 87% positive rating on Rotten Tomatoes, but audiences tend to resist "arty" sci-fi films, and Annihilation received a very poor "C" CinemaScore, which likely means a steep drop off in the weeks to come. Paramount showed little faith in the film when they sold the overseas rights to Annihilation to Netflix.

The leggy hits Jumanji: Welcome to the Jungle (-28.8%) and The Greatest Showman (-32.5%) continued their impressive performances, but the totals they earned ($5.7 million and $3.4 million respectively) continue to slowly diminish.

This week's other new release, the Y.A. fantasy romance adaptation Every Day debuted in ninth place, earning $3.1 million from 1,862 theaters. Made for under $5 million, this modest adaptation doesn't have to do all that well to become a success for the revived Orion Pictures, but, needless to say, Every Day's success will be limited. Predictably the film played to an audience that was 68% female.

Be sure to check back here next week to see if Black Panther will three-peat when faced with competition from the spy thriller Red Sparrow starring Jennifer Lawrence and from a totally unnecessary remake of the blood-soaked vigilante saga Death Wish starring Bruce Willis. Will the post-Parkland zeitgeist work for or against Death Wish? Check back here next week and find out.