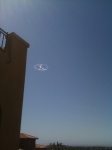 X-Men: First Class
, which seemed to suffer from relatively low expectations from both its studio Fox and from the licensing world (see, for example, "
Boys Toys Up at Hasbro
"), is actually mounting a strong run-up to its release this week including a stealth skywriting campaign that is putting the old school X-Men "X" symbol in the skies above southern California. This photo tweeted by Larry Marder is one of numerous similar photos hitting social media and the blogs over the last couple of days.
Reviews as of this writing are running 97% positive, according to Rotten Tomatoes, down from the 100% positive rating the site had compiled a couple of days ago (see "
Box Office Throbs with Hangover
"), but still a pretty spiffy ranking for a superhero movie. That's one negative out of 37 total reviews. Among the positives are
Variety
and
Hollywood Reporter
, which weighed in over the last couple of days.