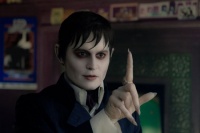 The latest officially released still from Tim Burton's
Dark Shadows
depicts Johnny Depp as a youthful looking Barnabas Collins. Compared with
Twilight's
Robert Pattinson, Depp is an "old school" vampire with ghostly complexion that is definitely a "whiter shade of pale" and a "creep" factor that reminds viewers that a vampire is not to be confused with a teddy bear. This closeup of Depp and his long elegant fingers complete with claw-like nail extensions makes him appear much more menacing than a previously released still that shows him menacing Michelle Pfeiffer (see "
Depp, Pfeiffer in Dark Shadows
"). The lighting in the new still is especially effective in setting off Depp's hollow-eyed look.
Comparing these stills with the first candid shots taken by amateurs (see "
First Look at Depp as Barnabas Collins
") the importance of Burton's lighting is very evident. Depp's heavy white makeup is way too obvious in the beach location snapshots. The antique blue shades are a real visual treat, but they will look even better in the movie. The newly released still of Depp as Barnabas Collins is a far better indicator of how the amazingly youthful (and creepy) looking 48-year-old star will appear in the movie.