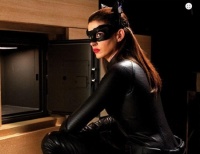 Warner Bros. has released a half-a-dozen new images from Christopher Nolan's
The Dark Knight Rises
, the final film in the director's
Batman
trilogy, which debuts nationwide on July 20th. The new image dump follows hard on the heels of the high-res photo released yesterday of Anne Hathaway in her skintight Catwoman suit (see "
Does She Put the Sensuality in 'The Dark Knight Rises'?
"). Hathaway figures prominently in the images released today in the summer movie issue of
Entertainment Weekly
, which include a shot in which she appears to be demonstrating her considerable safecracking skills.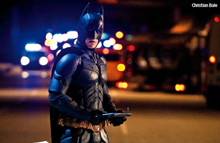 No one could ever accuse Batman/Bruce Wayne of not keeping up with the times. Here the Dark Knight appears to have a tablet computer (should it be called the "Batpad" or perhaps the "bPad").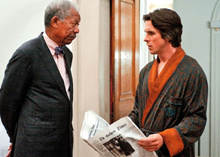 In this shot Bruce Wayne (Christian Bale) consults with Lucius Fox (Morgan Freeman).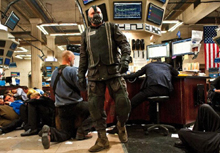 Here's a great shot of the movie's chief villain Bane (Tom Hardy) in the midst of what looks like a takeover.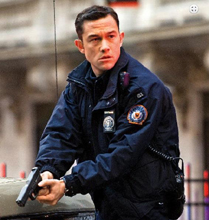 Here Selena Kyle (Hathaway) dances with Bruce Wayne.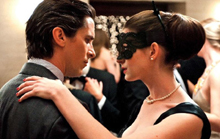 Joseph Gordon Levitt plays Gotham City beat cop John Blake.