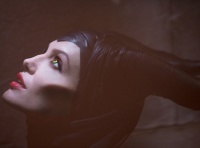 Disney has released the first photo of Angelina Jolie as Maleficent, the evil witch from Sleeping Beauty who gets her own star turn in a dark fantasy saga that reveals the origin and raison d'etre for the sorceress, who remains one of the most intriguing fairy tales villains. Maleficent, which will mark the directorial debut of Robert Stromberg, who won Academy Awards for his production design on films like James Cameron's Avatar and Tim Burton's Alice in Wonderland, is slated to debut in 3D in theaters on March 14th, 2014.
The new still of Jolie is perfectly in keeping with the dark tone of Maleficent. Jolie's widow's peak skullcap and horned headgear are in keeping with Disney's design of the character, and the glowing green contacts are a nice touch. The dramatic lighting from above highlight's Jolie's incredibly sculptural cheekbones and provides just the right tone for this story, which will detail the events that hardened her heart and turned into one of Disney's most effective villains.
The success of
Snow White and the Huntsman
in cinemas and
Once Upon a Time
and
Grimm
on the small screen all highlight the growing acceptance of fairy tale-based dark fantasy. In addition to
Maleficent
on the big screen, there are two dueling small screen versions of
Beauty and the Beast
in production (see "
Battling 'Beauty and the Beasts'
") plus a film version directed by Guillermo Del Toro (see "
Del Toro to Helm 'Beauty and the Beast' Movie
").