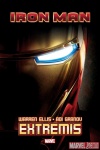 New concept art released by Marvel Studios for Shane Black's Iron Man 3 appears to confirm the widespread speculation that Warren Ellis' 'Iron Man Extremis' storyline will form the basis for the film's storyline. The illustration by Marvel Studio's mainstay Ryan Meinerding appears to show Tony Stark under attack employing his armor without his wristband sensors. This sort of action would be possible for an "Extremis-enabled" Stark, since in the "Extremis" storyline Stark's armor actually becomes part of his physiology thanks to nanotechnology.
The concept art was first published by
Entertainment Weekly
, which notes that the "Extremis" storyline is perhaps the most logical explanation for what is happening in the concept art. But nobody including
EW
can definitively explain the black-ops types who are attacking Stark, though they could be members of the domestic terror cell that is featured in the "Extremis" storyline.
But it is important to note that so far Marvel Studios' movie storylines have rarely been confined to one comic book story arc. While this can make selling graphic novel tie-ins more difficult for retailers, it provides lots of narrative flexibility for Marvel Studios, which can mine the entire Marvel universe compatible characters and events. Last month
Variety
noted that James Badge Dale was joining the cast of
IM3
as the cyborg character Coldblood. While the character of Coldblood, who was originally Army officer Eric Savin before he stepped on a landmine and was then transformed into a cyborg, makes sense in an
Iron Man
movie, Coldblood has yet to appear in an
Iron Man
comic.