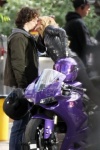 New photos from the set of
Kick-Ass 2: Balls to the Wall
show Chloe Moretz (Hit Girl/Mindy Macready) kissing Aaron Johnson (Kick-Ass/Dave Lizewski). Hit Girl and Kick-Ass are riding Hit Girl's purple motorcycle. The film is currently in production with shooting taking place in the UK and Canada. The latest set photos appeared on the
NewsCom
site.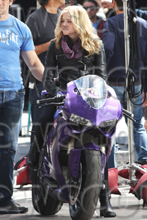 Jeff Wadlow is directing
Kick-Ass 2: Balls to the Wall
, which is based on the comic book series by Mark Millar and John Romita, Jr. The movie, which stars Christopher Mintz-Plesse, Aaron Johnson, Chloe Moretz, Jim Carrey, Lyndsy Fonseca, Yancy Butler, John Faison, Yancy Butler, and Olga Kurkulina (see "
Olga Kurkulina is 'Kick-Ass 2's' Mother Russia
"), is now slated to debut on June 28th, 2013.