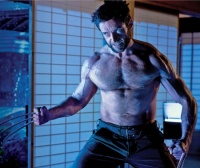 Have you had enough of winter yet? Are you pining for summer time and 2013's blockbuster comic-based movies? Well three new high-def stills that were released for
EW's
2013 preview issue provide some hints of next summer's comic-related cinematic delights starting with a great still of a shirtless Hugh Jackman rippling his considerable muscle mass in a scene from James Mangold's
The Wolverine
, which is slated to unspool nationwide on July 24th, 2013.
Equally impressive in its own way is the still from Shane Black's
Iron Man 3
that shows Pepper Potts (Gweneth Paltrow) in a surprisingly tender moment with Tony Stark who is clad in the latest iteration of his high tech Iron Man suit. Black's
Iron Man 3
will kick off the summer movie season when it debuts in the U.S. on May 3rd (our British friends get to check out
IM3
a week earlier when it debuts in the U.K. on April 26th).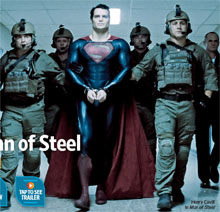 But perhaps the most telling of the new stills comes from Zach Snyder's
Man of Steel.
It shows Superman (Henry Cavill) handcuffed in the custody of a group of military types (the minions of General Zod?). Snyder's revival of the
Superman
franchise is slated to debut in theaters on June 14th.