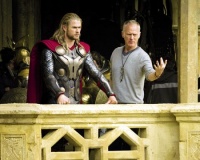 Marvel Studios has released an official still from the set of
Thor: The Dark World
, the eighth film in the Marvel Studios' Marvel Cinematic Universe, which is slated to be released on November 8th, 2013. The still shows director Alan Taylor demonstrating a gesture to Hemsworth who appears to be standing on balcony.
In
Thor: The Dark World
, the god of thunder battles to save all nine realms from a mysterious enemy who just might be older than the universe itself. It is this primeval race of dark elves led by Malekith who provide a supreme test of Thor's abilities and ingenuity (see "
Malekith in 'Thor: The Dark World'
").