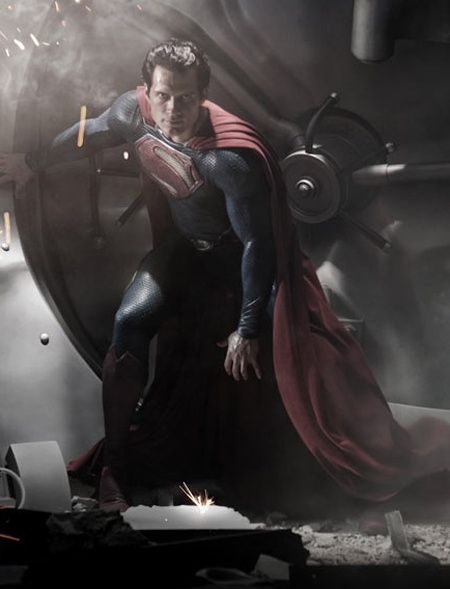 Just one day after announcing that Laurence Fishburne would play Perry White, Warner Bros. has released the first still of Henry Cavill as Superman. Semi-crouched in front of what looks like a giant bank vault, Cavill looks like a pulling guard rising from his stance to lead a sweep around right end. The lighting, which is supplied by sparking broken power lines, does not show whether Supes is wearing his traditional red trunks or not. But the suit, which appears to have a high-tech, semi-gloss texture similar to that of the costume of the new rebooted movie Spider-Man (see "
High Resolution Amazing Spider-Man Photos
"), appears to be closer to the traditional "old school" Superman costume than to Jim Lee's redesigned Supes togs for the next incarnation of Superman in the "New 52" (to check out Superman's new looks, see "
Supes & Lois Never Happened
," & "
Supes Shows Off New Duds on Action #1 Cover
").
This first image from Zack Snyder's
The Man of Steel
franchise reboot appears to indicate that audiences can expect lots of traditional Superman feats of strength like crashing through walls or ripping the door off of a giant bank vault. Cavill, who leads an all-star cast that also includes Amy Adams, Kevin Costner, Diane Lane, Russell Crowe, Julia Ormond, Michael Shannon, Christopher Meloni and Antje Traue (see "
Superman Villain Cast
"), certainly looks the part (Christopher Reeve with longer hair) in this first still from the film, which is set to debut on June 14, 2013 (see "
The Man of Steel Debut Delayed
").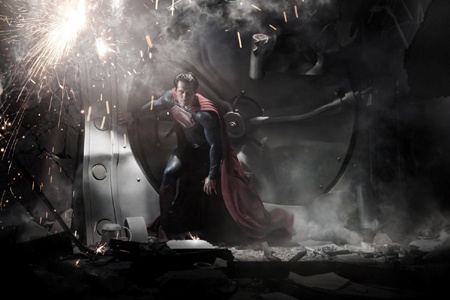 Here's the full frame image.