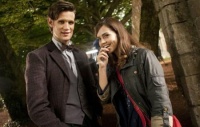 The BBC has released the first still of
Doctor Who's
new companion, who is played by Jenna-Louise Coleman (see "
Doctor Who Companion Cast
"). The photo shows Jenna flashing a coy smile as she stand next to the Doctor (Matt Smith), who looks very dapper with his bow tie and vest ensemble.
The
Radio Times
reports that fans observing filming of the new Doctor Who episodes in South Wales heard Coleman's character referred to as "Clara," but so far the BBC has not revealed the name of her character or the time period from which she comes. Answers to these questions may have to wait until the
Doctor Who Christmas Special
that introduces Jenna airs.