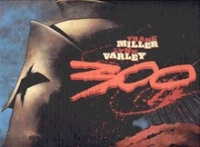 What a difference a few days makes. When we checked in with Dark Horse last week on the availability of its 300 titles on the way into the movie premiere weekend, we reported that 'the news [was] good.' A few days later, the news is less so.
Immediately after publishing our story last Thursday (see '300 In-Stock Update'), we began hearing that orders placed with Diamond for the 300 graphic novel were going to back order. Given that Dark Horse had just told us that Diamond had 14,000 in stock, and that another 15,000 had just arrived, we were surprised, to say the least. We checked back with Dark Horse VP Business Development Michael Martens for another update. He explained the situation. 'The information I gave you last Wednesday was several days old,' he said, 'and in that time a lot of copies evaporated.' The 14,000 copies that had been available as of Friday, March 2nd had been sold, and Diamond was out of stock as of last Thursday, March 8th.
Martens also clarified the news on the 15,000 copies of the 300 graphic novel that had 'just arrived.' Those copies had arrived in the country and were en route to Diamond. When they are available for distribution (presumably this week), they'll be used to fill the back orders that accumulated last week. Martens promised a favorable allocation of those copies for the direct market vs. the book channel, with some copies left to fill comic store orders that come in this week.
Last, the additional 15,000 copy order 'en route' from Asia is around two months away, meaning that the copies currently in stock in retail stores, soon to be at Diamond, and at book wholesalers will be all of the supply available to the market for some time. Martens did say that additional copies had been ordered beyond those 15,000 copies in an attempt to catch up with demand.