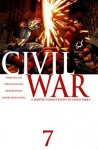 The seventh and final issue of Marvel's Civil War crossover event topped the February sales chart of periodical comics sold via Diamond Comic Distributors with sales of 265,935 units. Civil War #7 was one of just five titles to post gains over previous issues, while 17 series declined, but sales of periodicals were given a definite boost by debut comics, three of which finished in the top 25. Marvel's Dark Tower: The Gunslinger Born #1 comic came in at number 2 with 172,147 copies sold, while DC's Brave & Bold #1 (2 covers; 50/50 ratio) was at #13 with 92,091 copies sold, and Marvel's X-Men Annual (65,559) was #22.
Marvel took the first six spots and 15 out of the top 25. In addition to Civil War and Dark Tower, Marvel's top titles included Amazing Spider-Man #538 a Civil War tie-in and New Avengers #27, which featured the debut of artist Leinil Yu, Astonishing X-Men #20 and Wolverine #51. Overall Marvel had 33 out of the top 50 titles, while DC had 17. Dark Horse's Star Wars Legacy #8 (at 57), Conan #37 (at 75), and Dynamite Entertainment's Red Sonja #19 (at 93) were the only non-Marvel or DC titles in the top 100.
While Marvel dominated the periodical comic book list, DC took 8 out of the top 10 spots in the graphic novel chart, though Marvel did claim the top spot (in units) with Civil War: The Road to Civil War, while New Avengers Vol. 5 came in at #7. DC's contingent was led by the Alex Ross' Justice Vol. 2 hardcover (#2 in units, #1 in dollars), the deluxe softcover edition of Batman Year One, Jack of Fables Vol.1, DMZ Vol.2, and Justice Society Vol.2.
Viz Media's Bleach, which is picking up steam in both the direct and bookstore markets, was the top manga release at #11, followed closely by Tokyopop's Kingdom Hearts: Chain of Memories Vol.2 at #12. Dark Horse's $30 300 hardcover was #15 in units, but third in dollar sales.
Here are ICv2's estimates of the sales by Diamond Comic Distributors to comic stores on the top 25 comic titles in January:
265,935 Civil War #7 (of 7)
172,147 Dark Tower: The Gunslinger Born #1 (of 7)
142,956 Amazing Spider-Man #538
130,531 New Avengers #27
119,736 Astonishing X-Men #20
97,181 Wolverine #51
94,960 Justice #10 (of 12)
94,694 52 Week #40
94,486 52 Week #41
94,220 52 Week #42
93,505 52 Week #43
92,881 New Avengers: Illuminati #2 (of 5)
92,091 Brave & Bold #1
89,163 Civil War Frontline #11 (of 11)
84,356 Justice Society of America #3
83,167 Batman #663
83,009 Uncanny X-Men #483
78,901 Wolverine: Origins #11
75,707 X-Men #196
74,376 Ultimate Spider-Man #105
69,860 Wonder Woman #4
65,569 X-Men Annual #1
64,554 Action Comics #846
64,363 Ultimate X-Men #79
62,791 Thunderbolts #111
We are estimating actual sales by Diamond U.S. (primarily to North American comic stores), using Diamond's published sales indexes and publisher sales data to estimate a sales number for Batman (the anchor title Diamond uses in its calculations), and using that number and the indexes to estimate Diamond's sales on the remaining titles. We can check the accuracy of our numbers by comparing the Batman number that we calculate using multiple data points; our numbers for Batman are within 1/10 of 1% of each other, ensuring a high degree of accuracy.

For an analysis of the dollar trends in February, see 'Comic Books & Graphic Novels Post Gains Again.'

For our estimates of actual orders to Diamond U.S. from comic specialty stores on comic books scheduled to ship during February, see 'Top 300 Comics Actual--February 2007.'