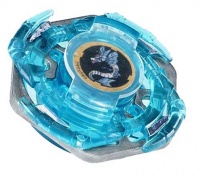 Nelvana, the Canadian-based distributor of children's programming and products, has acquired the rights to the latest Japanese toy craze, Beyblades, as well as to the anime series the toy tops have inspired. Nelvana granted the North American toy license for Beyblades to Hasbro, and the customizable 'war' tops are now available in the U.S. In Japan Beyblades have become a permanent fixture on the top ten toy lists since January of 2000. Beyblades have become so popular in Japan that kids regularly stake out toy stores and snap up new shipments as soon as they arrive. The popular Beyblades anime series, which follows the exploits of an international crew of youthful Beyblade masters as they refine their skills and participate in an international Beyblade championship, has already reached 51 episodes in Japan.
So what are Beyblades? Basically a Beyblade is a customizable spinning top that kids can build and collect. Each Beyblade has an attack ring, a weight disk, spin gear, and blade base. Kids collect the various parts, put them together in all sorts of combinations and then spin them in competition with another kid in a special plastic Beystadium. The attack rings feature blades, hooks, and other protuberances, while the weight disk determines balance, the spin gear determines spin direction, and the blade base determines the top's movement patterns. The players configure their Beyblades, give them a good spin and set them off against their competition in the plastic Beystadium. The last top spinning is the winner.
An intriguing combination of one of the world's oldest toys, the spinning top, and the very modern kind of customizable competition seen in 'Battlebots' and other robot competitions, it is no wonder that Beyblades are a major hit in Japan.

Nelvana is hoping that the toys will become so popular here that the anime series will be able to feed off the toy frenzy.

Certainly some anime series (Transformers, Pokemon, Medabots) appear to have been created with the idea of selling toys, but the Beyblades anime was never an instigator, but rather an afterthought that has thrived on the tremendous success of the toy itself.