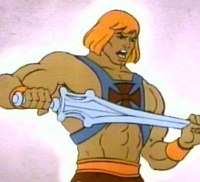 Variety is reporting that uber-producer Joel Silver and Warner Bros. are developing a He-Man live action movie with Mattel, the toy company that created the property in the 1980s. Mattel, which was burned by the 1987 live action Masters of the Universe film that starred Dolph Lundgren (whose performance reportedly left splinters in any audience member bold enough to sit in the first ten rows), has final approval over the script. Justin Marks is writing the script; he's currently working on a live action version of Voltron (another 1980s animated icon) for producer Mark Gordon as well as on an adaptation of the Street Fighter anime series and the Green Arrow comic from DC.
Since the 1980s Masters of the Universe movie there have been several attempts to bring the hero of Eternia to the big screen, most notably by action film whiz John Woo, whose pitch Mattel eventually rejected in 2004 (see 'Woo Pitches He-Man'). According to Variety the new version imagined by Silver and his crew returns to the stark theme of 'good versus evil' that characterized the 130 episodes of the original animated He-Man series, which ran on Saturday mornings from 1983-1985 and have been recently issued on DVD by BCI (see 'He-Man Heads to DVD').
The announcement of a major new live action motion picture initiative based on a popular property from the 1980s just six weeks before the big screen debut of Michael Bay's blockbuster adaptation of another 80s animated series, the Transformers, a property owned by Mattel's biggest rival Hasbro, is certainly not just coincidental. It is further evidence of a trend that also includes Warner Bros. live action versions of the Speed Racer (see 'Date Set for Speed Racer Feature') and Voltron (see 'Voltron Optioned') animated series.