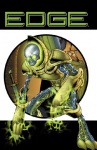 CrossGen, the Tampa-based comic publisher that burst onto the scene in 2000, has announced an innovative program that will result in full color 200-page trade paperback anthologies collecting issues from five or six different comics series. The two anthology collections, dubbed Forge and Edge, will debut in April with a very reasonable cover price of $9.95 each. The issues collected in Forge and Edge will be from 90-120 days behind their first appearances as individual 32-page monthly comics. CrossGen will continue to publish trade paperback collections of single titles, which means that some titles will appear in three different formats -- as monthly single issues, in Forge or Edge, and finally in a single title anthology collection. CrossGen, which has been aggressively signing high profile writers and artists, demonstrated the strongest growth among mid-size U.S. comic publishers during the past year (see 'Mid-Size Publishers Volatile in 2001').
Though CrossGen's press release stated that Forge and Edge were based on proven models of European comics and manga compilations from Japan, a closer examination indicates that what CrossGen is trying is somewhat different from anthologies in those markets. Japanese manga anthologies are printed in black and white and are inexpensive, even by comparison to the very reasonable $9.95 price of the CrossGen anthologies. European comic anthology magazines like Metal Hurlant and A Suivre (both of which have long since ceased publication) were in color and comparably priced, but neither Europe nor Japan has ever had an equivalent to the 32-page monthly comic. The material that appeared in Shonen Jump or A Suivre appeared there for the first time and was collected into individual trade paperback (Japan) or hardcover (Europe) volumes after all the installments of each individual title had first appeared in the comics anthology magazines.
Forge #1
will contain: Crux #1-#3, Meridian #15, the Negation Prequel, the Sojurn Prequel as well as #1 and a preview of The Path.

The first issue of Edge will include: The First #8-#10, Mystic #15-#16, Ruse #1, Scion #15, and Sigil #15.

The anthologies contain the equivalent of 8 comics, which if purchased individually would cost almost $24.

Even if CrossGen's innovative strategy doesn't find favor among comics fans, it could prove to be effective as an outreach tool in mainstream bookstores.