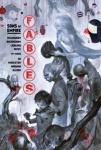 Graphic novels sales in comic stores grew by 33% in June versus sales in June of 2006 marking the end of the strongest quarter for graphic novel sales since ICv2 began tracking comic book and graphic novel sales in 2001. During the second quarter of 2007 graphic novel sales rose 48%, while sales of periodical comics managed just a 7% gain.
Overall sales of comics and graphic novels posted a solid 13% for the second quarter, the same growth percentage that the market achieved in the first quarter, though during Q1 it was the growth of periodical sales at 14% that overshadowed graphic novels that only managed an 8% up-tick.
For the first six months of 2007 comics were up 10%, while graphic novels sales rose 28% and the combined total was up 13% versus the first half of 2006.
Although dollar sales of the top 100 graphic novels fell over 20% in June from May's perfect storm of graphic novel sales, sales were up substantially from June of 2006, led by Vertigo's Fables Vol. 9: Sons of Empire and Marvel's Incredible Hulk: Planet Hulk HC. Growing sales of manga in the direct market as well as continued strong performances by compilations of comic events like Civil War have contributed to a major expansion of graphic novel sales in the second quarter.
While periodical comic sales gains of just 4% in May and June might seem anemic in comparison, it should be remembered that the Civil War mega-event premiered during those months in 2006, so a 4% gain should be seen as quite an accomplishment. Marvel, which stretched its market share lead over DC to historic proportions in both May and June, has obviously managed to replace the sales generated by Civil War, which is no mean feat.
For the top 300 comics in June, see 'Top 300 Comics Actual--June 2007.'

For the top 100 graphics novels in June, see 'Top 100 Graphic Novels Actual--June 2007.'

For an overview and analysis of the best-selling comics and graphic novels in June, see 'Marvel Dominates Periodical Sales in May.'

For the top 300 comics in May, see 'Top 300 Comics Actual--May 2007.'

For the top 100 graphics novels in May, see 'Top 100 Graphic Novels Actual--May 2007.'

For an over-view and analysis of the best-selling comics and graphic novels in May, see 'Marvel Dominates Periodical Sales in May.' For an analysis of the dollar trends in May, see 'Graphic Novel Sales Soar Again.'

For our index to our reports on the top comic and graphic novel preorders for January 2000 through June 2007, see 'ICv2's Top 300 Comics and Top 100 GNs Index.'