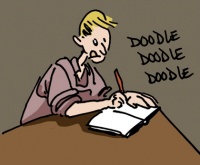 ICv2 recently spoke with First Second editorial director Mark Siegel about its publishing plans. In part 2 of this two-part interview, we learn about the company's 2008 releases.
What can you tell us about in the '08 titles?
'08 is going to be another jump up; we're planning to make a lot of noise. We have two projects with Jessica Abel. One of which is she and Gabe Soria wrote a script called Life Sucks, and Warren Pleece is doing the art. I think some people know him from DC, British artist, very talented. This is teen vampires, but it's closer to Clerks than Anne Rice. The guy is working in a 7-11 convenience store on the night shift and his boss is a vampire lord, he's made him a vampire and he gets a call from his vampire lord checking that the hot dogs are turning properly, and it's really witty things set in south LA. There's a lot of interest already from Hollywood and TV around that one, so that's a big project for us. That's Spring '08. We have the Jessica Abel with her husband Matt Madden doing this textbook which is going to be a very definitive; it's both a classroom course or self study. They've been teaching comics at SVA and they've distilled four years of this program into this book. It's really remarkable and we're going through the last round of proofs right now.
How big will it be?
At the moment I think 350 pages, but it may go up a little bit from that, and in a slightly different format. We have a few books that are going to break format now. We want to continue our line the way we have it. but, for example, Joann Sfar's Little Vampire series and another Trondheim book that are really in our young collection are going to be in a slightly bigger format -- not quite the European album, but 7.5' x 10.' So we have two of those. I'm thinking that just for the young readers, we're going to continue that format.
Anything else in '08?
A lot of people who have their eyes on the French stars of comics know Christophe Blain. He did Isaac the Pirate, which NBM put out, and I think he's one of the most phenomenal talents graphically. We have a western with him called Gus, which is very exciting. He's another one that's getting copied all over Europe now, because his artwork is so dynamic.
We have a few interesting French projects. Another one coming in spring '08 is called Three Shadows, by Cyril Pedrosa, which is visually like nothing else I've seen. It's one of our black and white projects.
Paul Pope has an enormous project called Battling Boy, which is his youngest and biggest mainstream project, full color. I think it's going to be both very accessible with a superhero element, but it's also very open to the readers that don't belong to that world. It will showcase Paul's amazing brush work and his unique high energy artwork. It draws mainly on Norse mythology and it's the son of a god who is kind of a Thor-ish character. This young son is dropped on a corrupt planet that's overrun by monsters. These monsters are all the classics -- Frankenstein, Dracula -- some of which are bad, some of which aren't. He's dropped on this thing with nothing but a suitcase with 12 t-shirts that each of which has a power. I've seen the opening sequence already and it just takes your breath away. You'll see Paul at the top of his game and he's got this god landing and this incredible sequence of the father with his young son, landing and parting the clouds in a storm on top of a high mountain peak overlooking Monstropolis and he's casting him into his training to manhood. I think it's going to make a lot of noise. There's more on the horizon with Paul as well, but this is two 200-page books, and this is more than I've said about this project to anybody so far, but at San Diego, we're planning to break out some of the materials and show off.
When will that happen?
Right now, I think they're both on the fall list, early fall and late fall.
Can you talk about the response to the spring list this year? What were the bestsellers out of it?
There's a funny pattern that I'm seeing, some of the books that are my babies, that in spite of their lack of obvious commercial appeal are going to be, they're the ones that seem to run out the door and immediately start selling. We've had that again with The Professor's Daughter this time. I think it's one of the most gorgeously drawn graphic novels in existence. It's gorgeous watercolor, and I think it's one of the most romantic of our books. We're definitely getting some women and teen girls, but also older women readers who are taking to this. We had a half-page in O magazine with a sample, it's just a surprising thing, we didn't know we'd get into that world so immediately.
That's a big deal, when did that happen?
It was the May issue and there was a full spread of the book, and a glowing little review of it, and that just happened. We have a publicity team and we have a marketing team but this just happened without us trying for it. That's a very exciting thing that's happening in Spring.
The Black Diamond Detective Agency is the new Eddie Campbell. There's been a lot of buzz online about the trailer, which if you see this trailer, it's just so over the top Hollywood. The guy who did the voiceover is a real voiceover guy from previews, because we bought this script from Wonderland Films and Bill Horberg is the producer there, and he's a big time Hollywood producer, he did Cold Mountain and some A-list stuff. What's great is Eddie Campbell so subverts the whole Hollywood way of thinking and the book itself is twisting the script around Eddie Campbell's graphic mischief of every kind. There's this lovely thing where the trailer came out and people were speculating if Eddie Campbell had sold out and gone Hollywood. The trailer does make you want to read the book, but then you get something quite different, I like how that happened.
Tiny Tyrant is a Trondeim again, and this time he's delivering a script with Fabrice Parme who is a very interesting guy, very well known in the animation fields in Europe. He did this book in homage to the early UPA classic animation, like Mr. Magoo and the early Pink Panther cartoons, and I think graphically it's very American. The premise is 'what if a spoiled rotten brat was the most powerful man in the nation' -- sounds crazy, doesn't it? So that's what he is, he's a six year old tyrant running his own little kingdom.
The Lost Colony I think is a dark horse in the First Second stable. He's got 10 books lined up, and I think the second one shows off more of the world of this little island. In the first book he's tackling some pretty niggly issues, he's going after some of America's demons, and some of the darker problems in American history. This one partly tackles with the Indian wars indirectly, but also the war profiteering.
Is this fiction?
It's fiction, but it's set in the 19th century, it draws on history and the war profiteering side of this story has an undercurrent that makes you wonder if there's something in here about Halliburton. I think it's very smart writing, and we're getting some very interesting scholars and authors giving us endorsement quotes as we go up to the third book, which I think is going to be like Lone Wolf and Cub where the third one was the entry point for a big mainstream audience.
When's the third one coming out?
Fall '08. We're getting the artwork for that right now, and I think he's going to have his day.
Of those books that you just mentioned from your Spring list that are doing well, are you hitting those same kinds of numbers, twenties-ish?
Yes, we're in that same range. I know both The Professor's Daughter and Eddie Campbell have gone to reprint.
Did you raise initial printings at all based on the response of the first year?
We've been pushing for responding with bigger print runs when something does start taking off, but that's the area where you don't want people to be too reckless. You can always print more, and in some cases, like with American Born Chinese when we had to print fast, when the Printz award appeared on the heels of the National Book Award, then we did that in North America.