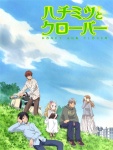 At the San Diego Comic-Con Viz Media announced the acquisition of two key shojo anime, Nana and Honey & Clover. The 47-episode Nana series from Madhouse is based on Ai Yazawa's 18-volume (and counting) manga series, which is currently the most popular shojo title in Japan. The Nana manga, which is about two very different girls who are both named Nana who end up sharing an apartment in Tokyo, has also spawned two popular live action movies, the first of which appeared in 2005 followed by a sequel Nana 2 in 2006. The Nana anime series ran on the NTV network from April of 2006 to March of 2007. Viz Media has not yet announced the dates for the release of the Nana anime series, though it will undoubtedly be released under the company's Shojo Beat Home Video imprint.
Umino Chika's Honey & Clover manga will replace Nana in Viz Media's Shojo Beat magazine next March, and Viz will be releasing the first volume of the Honey & Clover manga during the same month. The 10-volume Honey & Clover josei manga, which ended its run last July, inspired a 26-episode anime series produced by J.C. Staff in 2005 as well as a 12-episode sequel that was released in 2006. In addition, a 116-minute live action Honey & Clover feature was released in Japan in July of 2006.
Honey & Clover is set in an art college that is based on Musashino Art University in Tokyo and the story revolves around the lives of a group of male and female students and the love triangles that they form, in particular the competition between roommates Yuta Takemoto and Shinobu Morita over the childlike but talented Hagumi Hanamoto.