Viz Media has announced five new shojo manga series that will debut under the Shojo Beat imprint in 2008 including Be With You, Monkey High, Haruka, Fairy Cube and B.O.D.Y. These titles are in addition to a number of other new Viz shojo series already covered by ICv2 including Honey and Clover (see 'Viz Aquires Two Key Shojo Anime') and three new manga from Gentleman's Alliance creator Arina Tanemura (see 'Viz Media Adds Arina Tanemura Titles'). Shojo series, which appeal directly to female readers remain the key element in manga's success in bookstores and have also carved out a growing presence in the direct market.
The first of the new series to debut is Be With You, the manga adaptation of Takuji Ichigawa's romantic novel about a 29-year-old widower with a six-year-old son who meets a strange woman with mysterious links to his wife. Viz Media is also issuing an affordable paperback edition of the Be With You novel in February along with a paperback Socrates in Love (another great Shojo Beat novel). The trade paperback edition of the Kamikaze Girls novel is set for January.

In March Viz plans to release the first volume of Shouko Akira's Monkey High, a high school comedy/romance that debuted in Shogakukan's Betsucomi magazine in 2005. The on-going series has already reached six volumes in Japan.
Haruka: Beyond the Stream of Time, which bows in April, is a compelling fantasy about an ordinary teenage girl who gets transported back to the Heian era of ancient Japan where she is worshipped as the Dragon Priestess and has to stop the Demon Clan from taking over the capital city. Tooko Mizuno's fast-paced fantasy series, which debuted in Hakusensha's Lala in 2000, has reached 13 volumes (and counting).
Kaori Yuki, the creator of Angel Sanctuary, Godchild, and The Cain Saga, is one of the most original manga-ka's working today. She has a brilliant Goth-tinged style that perfectly complements her penchant for off-beat and boundary-pushing narratives. The 3-volume Fairy Cube series is about a teenage boy whose life is taken over by a renegade spirit that transports him to a bizarre and dangerous fairyland from which he must escape to return to his own life. Viz Media plans to release the first volume of Fairy Cube in May.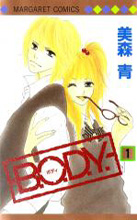 Also releasing in May is Ao Mimori's high school/romance/drama B.O.D.Y, the long-running saga of a high school girl's inexplicable crush on an aloof classmate. The series, which debuted in Shueisha's Betsuma in 2004, continues in Japan where it has already reached 10 volumes.