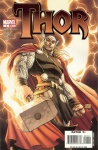 The launch issue of J. Michael Straczynski and Oliver Coipel's Thor, which shipped with three covers during July, topped comic sales to comic stores in July with over 165,000 copies sold. The final Fallen Son title, Fallen Son Death of Captain America: Iron Man, came in second, with around 157,000 copies sold to comic stores during July.
World War Hulk held strong at the #3 position, with around 155,000 copies sold. The first issue sold over 10,000 additional copies in July, pushing it over 188,000 total.
Wolverine #55 was up around 34,000 copies over the previous issue; the storyline featured the 'final' battle between Wolverine and Sabertooth with a fatal ending.
Batman #666 was up over 3600 copies over the previous issue, with a demonic/hell story in the 'mark of the beast' issue.
Green Lantern #21 was up a third (over 20,000 copies) over the previous issue behind the Sinestro Corps storyline.
Countdown sales decay is more advanced than 52's was at this point. And the World War titles aren't selling nearly as well as Civil War titles were a year ago.
Sales on 16 of the top 25 comics in July dropped vs. the previous issue, with only six climbing.
Marvel's Anita Blake - Vampire Hunter, by Laurell K. Hamilton, was the top graphic novel in comic stores in July, with around 8,500 copies sold. The second volume of 52 was #2 at around 8,000 copies.
Tokyopop's Kingdom Hearts II, Vol. 1 was the top manga in comic stores, followed by Dark Horse's Hellsing Vol. 8 and Viz's Naruto Vol. 15.
Sales at the top of the graphic novel chart were unusually spread out, with four different publishers in the top four slots, and seven in the top 10.
Here are ICv2's estimates of the sales by Diamond Comic Distributors to comic stores on the top 25 comic titles in July:
165,235 Thor #1
156,880 Fallen Son Death o/Captain America: Iron Man
155,322 World War Hulk #2
130,707 Wolverine #55
128,336 Dark Tower: The Gunslinger Born #6
122,991 New Avengers #32
122,823 Justice League o/America #11
107,768 Mighty Avengers #4
105,991 All Star Batman & Robin #6
105,715 Amazing Spider-Man #542
105,036 Incredible Hulk #108
100,830 Buffy the Vampire Slayer #5
94,773 Avengers Initiative #4
89,721 Captain America #28
88,883 Justice Society o/America #7
86,747 Uncanny X-Men #488
86,278 X-Men #201
83,781 Batman #666
83,329 All Star Superman #8
81,929 Green Lantern #21
79,944 World War Hulk: X-Men #2
78,955 All Flash #1
76,140 World War Hulk: Front Line #2
75,487 Ultimate Spider-Man #111
73,912 Countdown #43
We are estimating actual sales by Diamond U.S. (primarily to North American comic stores), using Diamond's published sales indexes and publisher sales data to estimate a sales number for Batman (the anchor title Diamond uses in its calculations), and using that number and the indexes to estimate Diamond's sales on the remaining titles. We can check the accuracy of our numbers by comparing the Batman number that we calculate using multiple data points; our numbers for Batman are within 1/10 of 1% of each other, ensuring a high degree of accuracy.

For an analysis of the dollar trends in July, see 'July Comic Sales Up Modestly.'

For our estimates of actual orders to Diamond U.S. from comic specialty stores on comic books scheduled to ship during July, see 'Top 300 Comics Actual--July 2007.'

For our estimates of actual orders to Diamond U.S. from comic specialty stores on graphic novels scheduled to ship during July, see 'Top 100 Graphic Novels Actual--July 2007.'

For our estimates of actual orders to Diamond U.S. from comic specialty stores on comic books scheduled to ship during June, see 'Top 300 Comics Actual--June 2007.'

For our estimates of actual orders to Diamond U.S. from comic specialty stores on graphic novels scheduled to ship during June, see 'Top 100 Graphic Novels Actual--June 2007.'

For our index to our reports on the top comic and graphic novel preorders for January 2000 through July 2007, see 'ICv2's Top 300 Comics and Top 100 GNs Index.'