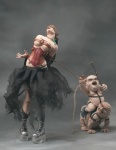 Variety is reporting that Todd McFarlane will produce and Josh Olson (who did the screenplay for A History of Violence) will write Oz, a new, darker vision of the Wizard of Oz. The film is based on an idea by McFarlane, developed by Olson. McFarlane's vision of the world most know from the L. Frank Baum novels or the 1939 movie starring Judy Garland has been seen in a 2003 series of toys that were a darker take on the characters. But Olson told Variety, 'I saw those toys, and Dorothy as some bondage queen isn't something I want to do... I want this to be Harry Potter dark, not Seven dark.'
McFarlane said he wants the film to have a '2007 wow factor.' 'You've still got Dorothy trapped in an odd place, but she's much closer to the Ripley from Alien than a helpless singing girl,' he told Variety.
Warner Bros., which owns the rights to the 1939 classic, and Village Roadshow are teaming to make the film.