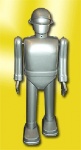 According to Variety Twentieth Century Fox has tapped Keanu Reeves to star as the articulate, peace-loving humanoid alien Klaatu in a remake of the 1951 science fiction classic The Day the Earth Stood Still. Michael Rennie portrayed Klaatu in the original film (like Rennie, Reeves has dark hair). Variety is reporting that Reeves' participation should speed production of the effects-heavy film, which Fox sees as a 'tentpole' and hopes to start filming in late fall or early 2008.
Given Fox's skill at product licensing, the movie's tentpole status and its cool flying saucer and robot (Gort), retailers shouldn't be surprised to see plenty of The Day the Earth Stood Still toys in the future. RoboToys already produces a very slick 9-inch tin wind-up Gort Robot (MSRP $29.95) from the original film that walks and features a visor that opens and closes.
Fox has vehemently denied the rumors that Reeves, who is a graduate of the Jan Michael Vincent Academy of Acting, was also considered for the key role of Gort.