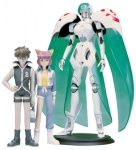 Bandai America unveiled its new line of toys for 2002 at the New York Toy Fair. The company's major push -- toys for the new live action series, Power Rangers Wild Force--will be all over Wal-Mart and are therefore of less interest to pop culture retailers than the company's less heralded offerings such as three new Anime Collector Sets, a first wave of Hello Kitty merchandise, and a major expansion of the Gundam line. Bandai also has its answer to Hasbro's BeyBlades (see 'Nelvana Nabs BeyBlades'), the Japanese battling tops game that has spawned similar products from Trendmasters and Playmates as well as Bandai. Bandai's tops are called Cycloneans, but the real action for pop culture retailers is more likely to be found in the company's anime-related releases.
Anime Collector Series
Bandai is expanding their Anime Collector Sets, which were first released in the fall of 2001, based on the success of their first offerings and on the exceptional video/DVD sales the property's. New Collector Sets for 2002 include Cowboy Bebop and Pilot Candidate as well as a second set for The Big O. Both Cowboy Bebop and Pilot Candidate have appeared on the Cartoon Network's Adult Swim Block (see 'Cowboy Bebop on Cartoon Network'), while the Batmanesque Big O has already been rebroadcast. The Anime Collector Sets include one 7' figure and two 4.5' figures and carry a suggested retail price of $14.99.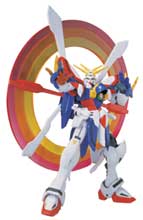 Gundam
This year will mark the third anniversary of Bandai's introduction of the Gundam line to the U.S. In Japan during the past 20 years over 400 different styles of Gundam model kits have been produced and over 300 million individual kits sold. Over 400 episodes of the bewilderingly large number of Gundam series have stimulated sales of related merchandise totaling over $5 billion in Japan alone. The world of Gundam toys is incredibly complex since many figures are available in kits of five different levels of complexity and take from 1 to three hours to snap together. Once put together the model kits become 5 to 7.5 inch fully articulated figures featuring between 65 and 140 parts depending on difficulty level. In addition to these model kits, most of which when assembled resemble action figures, Bandai also has a line of Gundam action figures that do not require assembly.
This year in addition to expanding the Gundam lines it has already introduced, Bandai is unveiling a lineup of figures from the G-Gundam anime series (see 'G-Gundam Next For U.S.?).

These model kits and action figures are set for an April release.

The G-Gundam anime depicts a tournament of robot champions, each representing a different country.

Bandai is releasing both G-Gundam model kits and G-Gundam Action Figures starting in April.

The Action Figures, which require no assembly come in varying sizes and price points, which range from $5.99 for 4.5 inch figures to $29.99 for an 11 inch Mega Size G-Gundam figures. The introduction of the G-Gundam toys makes it appear likely that the G-Gundam anime series will appear in the U.S. sometime in the next year. Gundam figures are widely distributed in the mass market.