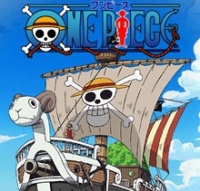 FUNimation's revamped version of the One Piece anime series is set to debut on the Cartoon Network's Toonami block on Saturday at 10 pm (ET, PT). Earlier this year FUNimation announced that it had acquired the rights to One Piece (see 'One Piece on Cartoon Network'), and that it was reworking the series, which had been previously adapted by 4Kids Entertainment (see '4Kids White Flags One Piece'). The One Piece anime is based on Eichiro Oda's fabulously successful Shonen Jump manga (published by Viz Media in the U.S.), which has reached 47 volumes in Japan and collectively sold over 140 million copies there.
Recently FUNimation announced its vocal cast for the revamped series and it includes Colleen Clinkenbeard as Monkey G. Luffy, leader of the Straw Hat Pirates, along with Christopher R. Sabat as Roronoa Zolo, the sword-wielding first mate whose name alludes to real-life pirate Francois l'Ollonais, and Eric Vale as Sanji, the chain-smoking chef or the pirate band.
The first newly dubbed One Piece episode that will appear on the Cartoon Network is actually the 144th episode of the 325 (and counting) episode anime series produced by Toei Animation and it marks the start of the 'Skypeia' saga. 4Kids, which cut the series quite heavily, managed to produce 104 episodes out of the first 143 episodes of the series. At this time FUNimation does not have the rights to go back and re-do those episodes, but perhaps if the FUNimation version of One Piece is any kind of a hit, the company might be able to get the rights to the entire series.
The FUNimation episodes of One Piece will continue on the Cartoon Network's Toonami Block and starting in 2008 FUNimation will release uncut episodes in bilingual box sets, which like Viz Media's popular Naruto Uncut Boxes, will contain 13-episodes and have a suggested retail of $49.98 (a sensible way to deal with such a lengthy series).
FUNimation's One Piece episodes airing on the Cartoon Network will be censored -- Sanji won't have a cigarette in his mouth (in fact, unlike the 4Kids version in which he was sucking on a lollipop, he won't have anything), but at least in the FUNimation/Cartoon Network version the characters will have real guns rather than pop guns and squirt guns as they did in the lamentable 4Kids version -- and fans will have access to uncut, uncensored episodes on DVD.
But the big question is -- will the FUNimation/Cartoon Network One Piece episodes be able to attract and hold an audience and allow the property to gain even a fraction of its tremendous popularity in Japan here in the States?