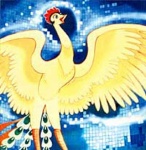 Viz Communications has announced that it will release Phoenix: A Tale of the Future, by Osamu Tezuka, as a $22.95 296-page trade paperback in May. Considered by many to be the summit of Tezuka's artistic achievement because of its ambitious use of the medium to address fundamental questions of existence, Phoenix consists of twelve stories, of which A Tale of the Future is the second. Although the uber-work, which was begun in 1954, was left incomplete by Tezuka's death in 1989, each volume can stand on its own as some of his finest work.
The story is set in post-apocalyptic future where civilization has gone underground due to the toxic atmosphere.

Five underground cities that resemble huge shopping malls are each ruled by an enormous supercomputer.

The Phoenix saga tells the story of a citizen of one of these cities that escapes, along with a forbidden extraterrestial creature, and triggers a visitation by a mythical bird and an epic adventure.