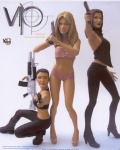 N2 Toys, the company that scored a major hit in the 'action figures for adults' category with its Matrix figures, is waiting to see if buyers at the recently concluded New York Toy Fair will order N2's second series of toys based on the cancelled Tick TV series (see 'Fox Dislodges the Tick'). Series II of the Tick toys, which may never see the light of day unless the ill-fated series finds a home on cable or another network, includes four classic villains: Champion, Destroyo, Red Scare, and The Terror. The cancellation of the Tick TV series points up the difficulties for toy companies that secure movie and TV licenses. TV series can be cancelled and even with successful movie 'franchises' like the Matrix, there can be years of downtime between sequels that can make it very difficult to move movie-related merchandise. N2 has reacted to the difficulties of movie and TV licensing by broadening its search for properties to include videogames (Kingdom Hearts from Squaresoft) and newspaper comic strips (Zits by Jim Borgman).
N2 is continuing its line of figures and vehicles from The Crocodile Hunter television series with several new offerings for 2002, which should have some appeal, especially to younger fans. On the other hand the VIP Cold Cast Statue is clearly aimed at collectors. This cold cast resin beauty features all three of the syndicated show's buxom bodyguards including, of course, Pamela Anderson. The only thing bigger than the guns these babes are wielding is the drool factor for fans of this slight, but sexy series. The statue stands over 10' tall (with its base) and should retail for over $100.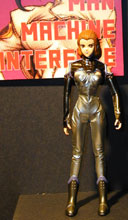 The coolest action figures at the N2 booth this year were three 12' Motoko figures from Ghost in the Shell 2: Man-Machine Interface. Each of the figures comes with its own distinctive cloth costume (and matching hair color). The figures are a co-production of the Japanese company Yamato and N2, which makes sense since Yamoto's US arm, Toycom, has six-inch Man-Machine Interface figures (see 'Toycom's Anime Offerings').
N2's other 2002 movie offerings come from older films including a set of six six-inch figures from Big Trouble in Little China, which should ship at the end of June along with a 12-inch figure of the Kurt Russell character, Jack Burton.

Other movie offerings include a series of Rambo figures from Sly Stallone's series of action films about the put-upon Vietnam Vet, and a figure of Steve McQueen from his classic detective film Bullitt.