Comic pioneers Francoise Mouly and Art Spiegelman are launching Toon Books (from the Little Lit Library), a new line of kids comics in book form, in 2008. The target audience is younger than almost any other comic material currently being published -- kids four and up.
Toon Books stories will be vetted by educators to make sure that emerging readers will be able to read the comics themselves. One state's school systems have already been sold; Maryland State Superintendent of Schools, Dr. Nancy Grasmick, plans to use Toon Books in K-3 classrooms as part of the Maryland Comic Book Initiative.
Toon Books will be distributed to the book trade by Diamond Book Distributors.
Six releases are currently planned for 2008, three in the spring and three in the fall:
- Benny and Penny in Just Pretend, by children's book author/illustrator Geoffrey Hayes (April)
- Silly Lilly and the Four Seasons, by children's book author/illustrator Agnes Rosenstiel (May)
- Otto's Orange Day, written by long-time cartoonist and illustrator Jay Lynch, and drawn by political cartoonist and comic artist Frank Cammuso (June)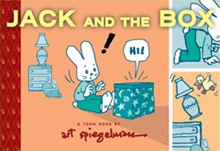 Fall releases are:
- Nick and Stinky by cartoonist Eleanor Davis
- Jack and the Box, by Art Spiegelman
- Mo and Jo Fighting Together Forever, by Dean Haspiel and Jay Lynch
Mouly and Spiegelman are no strangers to kids books; they collaborated on assembling four Little Lit volumes (see, for example, 'Little Lit Series Provides Comics for Kids'). The new element being added to Toon Books is the educational emphasis.
Toon Books could be called another project in Mouly and Spiegelman's lifelong efforts to legitimize comics. Raw magazine, and Maus, which launched in its pages, exposed comics to a new audience looking for more literary material. If Toon Books is successful in its efforts, it will help convince educators entrusted with teaching kids to read that comics are among their best tools to accomplish that.