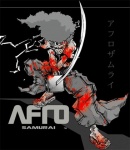 Tor Books, the largest publisher of science fiction in the world, has formed a new manga imprint with Seven Seas Entertainment. Founded by Jason DeAngelis in 2004, Seven Seas has published manga, manga and anime-inspired light novels, illustrated juvenile fiction, and OEL manga created in North America. Tor Books is part of the Holtzbrinck group along with Farrar, Strauss & Giroux, Henry Holt and St. Martins. Tor has been named 'best science fiction publisher' year-after-year in polls conducted by Locus Magazine.
Under the new agreement Tor and Seven Seas will work together to license and co-publish under the new imprint some of Japan's best known manga series, 'light' novels and other fiction. Starting in early 2008 Tor will also distribute new Seven Seas titles every month under the Seven Seas imprint.
In August of 2008 Tor and Seven Seas will publish their first collaborative venture under the Tor/Seven Seas imprint -- Takashi Okazaki's Afro Samurai manga, the basis for the Afro Samurai anime mini-series, which was broadcast on Spike TV and has been one of the best-selling anime series of 2007.
The August launch of the Afro Samurai manga will kick off a multi-platform promotional campaign for the property that will also include the debut of an Afro Samurai video game from Namco as well as the launch of the second Afro Samurai anime series, both of which are scheduled for the fall of 2008.
In addition to providing Tor with an entry into the burgeoning manga market, the agreement with Seven Seas will also provide Tor with the opportunity to become a leading publisher of Japanese 'light' novels, the kind of entertaining genre fiction (including science fiction and fantasy titles) that should dovetail perfectly with Tor Books' other offerings. The launching of the light novel line will take place in March with the release of Ballad of a Shinigami, Pita-Ten, and Strawberry Panic.