Go Comi has announced six new manga series that will debut in June, July and August of 2008. Four of the series are shojo titles that should have a strong appeal to the large female audience that shops in bookstores, while Yggdrasil, a supernatural seinen series, and Kurogane Communication, a mecha science fiction comedy series that features the distinctive line art of Tomomasa Takuma, also have an opportunity to find favor with a wider audience.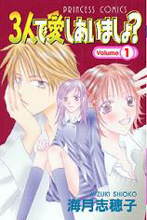 The first of the new manga series that Go Comi announced is the shojo title, Ultimate Venus, which is due out in June. Takako Shigematsu's 3-volumes (and ongoing) Ultimate Venus is a sort of reverse 'harem' comedy about a teenage girl who gets kicked out of her apartment only to be taken in by her rich grandmother who lives in a castle filled with handsome guys. Published by Akita Shoten, Ultimate Venus appears in the pages of the Princess manga anthology in Japan.
Three of the new series are slated to debut in July including the shonen Kurogane Communication, the seinen Yggdrasil and Bogle, a shojo manga from Yuuko Ichijuu and Shino Taira. The three-volume Bogle series, which debuted in 2002, is an action-packed saga about a teenage girl who moves to Tokyo and meets two very cool guys, who apparently have hidden identities.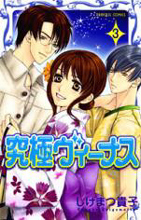 Two more shojo series are set for August, Toriko Gin's two-volume (ongoing) Song of the Hanging Sky, which appears in Enterbrain's B's-Log Comics, and Shioko Mizuki's Three in Love, a five-volume series that debuted in 2000 and deals with that most classic of romantic dramatic conflicts, the triangle.