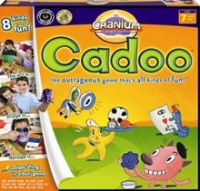 The U.S. Consumer Product Safety Commission and Cranium announced a recall of roughly 38,000 Cranium Cadoo games due to excessive amounts of lead in the surface paint on the die.

Only specific lot numbers are affected.

According to the recall, the games were sold last fall to 'specialty game stores,' Fred Meyer, Kmart, Shopko, and Wal-Mart.

The remedy is to replace the die with a non-toxic version, courtesy of Cranium.