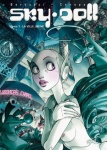 Marvel has announced that it will begin publishing titles from French publisher Soleil in English for the first time in May. Four titles have been announced. The first, Sky Doll, by Barbucci and Canepa, will be released in three volumes beginning in May.
Other Soleil titles that will be published in the U.S. by Marvel include Universal War One, Samurai, and Le Fleau Des Dieux.
Soleil, founded in 1988, has a library of thousands of volumes in its catalogue, and produces over 250 new books per year. Its fantasy flagship, Lanfeust, has sold over 5 million books since 1994.