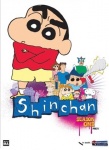 The first of 26 new episodes of the Shin Chan anime series will air on the Cartoon Network's Adult Swim on Friday, April 4th at 12:30 and 3:30 am. This will bring the total of Shin Chan episodes adapted by FUNimation to 52. FUNimation's dubs, which are filled with lots of western pop culture references, are very adult-oriented and irreverent in the Adult Swim manner -- the new episodes begin with a series of Star Wars ("Shin Wars") parodies filled with characters such as "Puke Skypooper," "Princess Labia," and "Any-Wan Canblowme." If this sort of outrageous parody stuff works with Adult Swim audiences, there's plenty more where these came from -- the Crayon Shin anime series has reached over 600 episodes in Japan.
The first Shin Chan DVD from FUNimation will be out on May 13th. As befitting such a lengthy series FUNimation is releasing Shin Chan in a multi-disk 13-episode format with an MSRP of $39.98, which brings the per-episode cost to just over $3 at full SRP.
Comics One released the first ten volumes of Yoshito Usui's Crayon Shin-Chan manga, but after Comics One ceased publishing DC's CMX acquired the Shin Chan manga license (see "Crayon Shin Chan From CMX"). While the Comics One version was rated "Teen," the CMX Shin Chan manga features uncensored art, Adult Swim-like jokes and a "Mature Readers" rating.
In addition to the manga from CMX, Toy Vault is producing a line of plush and talking plush Shin Chan figures (see "Toy Vault Gets Shin Chan License").