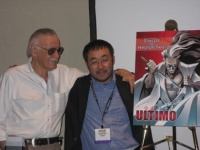 To no one's surprise, Viz announced at its New York Comic Con press conference that it will publish Ultimo, the new collaboration between Stan Lee and Shaman King manga-ka Hiroyuki Takei (see "Stan Lee and Hiroyuki Takei Collaboration"), in the U.S. The first installment of Ultimo appeared in Jump SQ.II, which was released in Japan last week. The special issue also included supplementary material including an interview with the famous creators and color interpretations of Marvel characters such as Spider-Man, Dr. Doom, Dr. Octopus, and Iron Man, by famous manga-ka.
Lee described the collaborative process as different from anything he'd worked on before. His concepts were developed further by Hiroyuki Takei. When the U.S. edition is published, Lee will write the English script. Lee also said he hopes that the property will eventually be developed in a TV show and a movie ("as big as Spider-Man"), and that he can be involved with all of it.
No release date was announced. Asked by ICv2 whether the material would first premiere in Shonen Jump or a collection, U.S. Shonen Jump EIC Marc Weidenbaum would not give specifics, but did say that the magazine is "a priority." And asked whether Viz would publish the Marvel character pin-ups by manga-ka in the States, Weidenbaum said "Absolutely," which adds one more way in which this unique collaboration can appeal to a broad audience.