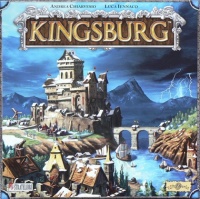 Fantasy Flight Games has announced a new business relationship with the Italian game manufacturer Stratelibri that will allow FFG to publish and distribute a number of games including Luca Iennaco and Andrea Chiarvesio's Kingsburg and Giancarlo Fioretti's Constantinople.
Kingsburg, which won the "Best in Show" and "Best of the Best" awards at the 2007 Lucca Comics and Game Fair, was originally produced for the U.S. by Elfin Werks (see "Will Niebling Forms Elfinwerks"), which quickly sold out its first edition and produced an Origins Awards Finalist slot (see "Origns Awards Finalists Announced").
FFG's edition of Kingsburg ($49.95) will be out in the fall. The other new board game release for 2008 from Stratelibri is Homo Luden's Constantinople, an elaborate game about 14th Century trading and sea transport in the seaport city of Constantinople.
FFG's agreement with Stratelibri also includes new English language printings of the party games Aye, Dark Overlord and Si, Godfather.
As for Elfin Werks, it is releasing Conflict of Heroes: Awakening the Bear ($75), a squad level tactical game featuring the challenges of Operation Barbarossa, the German invasion of Russia during World War II. Elfin Werks' Will Neibling described the game to ICv2: "It's basically German quality production printed here in the United States. The board and counters will be linen finished. The game will be out at Origins. It's $75 retail. It's going to be a very heavy game. It's going to have six mounted boards that fold in half and 192 counters, 1" square die-cut, 56 action cards, 4 track sheets, summary sheets, and 12 different scenarios."