In August of 2009 Pantheon will publish a 200-page volume collecting Josh Neufeld's A.D. New Orleans After the Deluge, a brilliant example of graphic novel history/reportage that follows the real life stories of six New Orleans residents during the catastrophic events caused by Hurricane Katrina, which battered the gulf coast in late August of 2005. A.D., which appears as a free Webcomic at Smith Magazine, is a powerful reminder of the suffering caused by Katrina. Pantheon will publish the graphic novel in a four-color process that will preserve the tinting effects that are used so effectively in the Webcomic.
When there is a disaster on such a large scale as Katrina, it is often difficult for people who are not involved to comprehend the enormity of the human cost of the event and the failure of government to deal with its consequences. By presenting a range of easy-to-identify-with characters and chronicling their actual experiences Neufeld manages to raise social consciousness organically without ever being overtly political.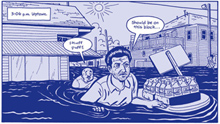 Neufeld, who has collaborated with Harvey Pekar on a variety of comic projects, actually went to the Gulf Coast in the wake of Katrina as a Red Cross volunteer in the Biloxi, Mississippi area. Later he returned to the still-devastated New Orleans with Smith Magazine founder Larry Smith and chose the actual people who would be the characters in A.D. including an Iranian-American owner of a small supermarket, a bon vivant doctor from the French Quarter, a sixth-generation New Orleans poet and kickboxer, the high school age son of an East New Orleans pastor, and a young music-zine publishing, comic book-loving writer and his girlfriend.