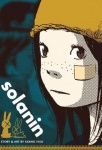 Viz Media made a number of announcements at Book Expo America today including the August release of the Shonen Jump 5th Anniversary Collector's Edition ($24.99). The book will contain all the manga from the first American edition of Shonen Jump as well as the first chapter of Naruto and top feature stories from Jump's first five years, including interviews with Akira Toriyama (Dragon Ball), Masashi Kisimoto (Naruto), Tite Kubo (Bleach), and Eiichiro Oda (One Piece); Japanese lessons, a Yu-Gi-Oh! trading card; and essays by Shonen Jump's American and Japanese editors.
Also announced by Viz Media at BEA was Solanin, an intriguing slice-of-life saga about young college grads struggling to get by in contemporary Japan. Viz plans to publish Inio Asano's comedy/drama in a single 400-plus page omnibus volume with six pages of color (MSRP $17.99). Rated "16+," this realistically rendered volume should appeal to those who like "alternative" or literary comics.
Viz Media also trumpeted some more traditional manga series including the Shonen Jump Advanced title, Nora: The Last Chronicle of Devildom ($7.99, Rated 16+) by Kazunari Kakei, the saga of an unruly demon who is exiled to live in the world of mortals where he is indentured to a high school student.
Other Viz Media BEA titles include two Naruto Chapter Books ($4.99), which present the saga of Naruto Uzumaki in an easy to read and understand form that is perfect for kids from 7-10.