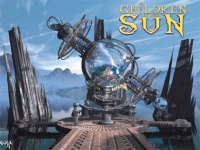 One of the yet-to-be-released products that drew a lot of attention at the recent GAMA Trade Show was Misguided Games' Children of the Sun, a dieselpunk fantasy RPG set in a world of arcane engines, divine relics, demonic fusions, and restless dead. Everything that's needed to play this ingenious game is included in one 320-page hardcover book that retails for $39.95.
The key to the enjoyment of a game like this, which matches Jules Verne-like mechanical devices with elves, werewolves, and humans, is great artwork, which can provide the mental pictures for this richly detailed fantasy world. The Children of the Sun hardcover includes 32 pages of full color art plus color maps of the island of Krace and the Known World, where all the action takes place. Cover art is by Jac Grenfell. Other art is by Stephanie Pui-Mun Law, Ken McCracken, and Socar Myles.
With the entire fantasy genre currently enjoying a renaissance thanks to the enormous success of Lord of the Rings, Children of the Sun provides a delightful escape to a world of lumbering airships, arcane steeds, and ingenious contraptions.

Misguided Games plans to follow-up the release of the core Children of the Sun book with geographically based supplements that continue to flesh out this fascinating retro fantasy world.