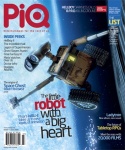 In a post on the PiQ Website, staffers have announced that the ADV monthly will cease publication with its July issue, currently on sale. They blamed "low advertising revenue, poor business management, and a lack of proper marketing and promotion" for the cancellation.
The post, from "the editorial/creative/production staff" also said that its best efforts went for naught, because "without a good financial backing, it's all an exercise in futility."
PiQ was developed as a replacement in ADV's portfolio for Newtype, which ADV stopped publishing in February (see "Newtype USA Ending"). A broader focus (see "Newtype Successor Broadens Focus") and great graphic design were not enough to find a niche for this magazine.