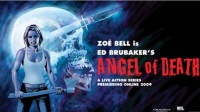 Sony Picture's Entertainment has announced a live action series, Angel of Death, written by top drawer comic scribe Ed Brubaker (Criminal, The Death of Captain America). The series will consist of ten 8- to 10-minute episodes and will debut one per week over a ten-week period on Sony's online network Crackle.com in 2009. After the series appears on Crackle additional footage will be added to smooth out the continuity into a feature film-like form and then Angel of Death will be released on DVD.
Stuntwoman-turned-actress Zoe Bell (Death Proof, Double Dare) has been cast in the lead role in the series, an assassin working for a ruthless crime family. When she suffers a severe head wound she is haunted by her victims and sets about methodically dispatching the people who ordered the hits.
Production of original programming (both live action and animated) for the Internet is a fast-growing sector as studios and independent producers look for ways to monetize the Net's huge audience. Budgeted at just over a million dollars, Angel of Death is pricy by the standards of Internet productions, but cheaper than many direct-to-DVD productions. In the business model for Angel of Death, which is the first of four to six such productions slated for 2009, Sony hopes to recoup some of the costs via online ad revenue at Cackle, but plans on recovering the bulk of its expenses (and generating profits) from its exploitation of the material on DVD (and paid downloads of the complete series).