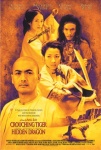 Ang Lee's poetic martial arts film, Crouching Tiger, Hidden Dragon became the highest grossing foreign-language film in U.S. history this past weekend with a total take of over $60 million.

Sony Classics opened the film in just 16 U.S. theaters last December, but over the past 10 weeks has gradually increased the number, reaching 1200 screens last week (vs. 5,000 for Hannibal or 2,500 for Saving Silverman).

Its gross last week was $5.4 million, good enough for fourth place in the weekly box office derby, its highest weekly ranking so far.

The film has also set the box office record for foreign language movies in Great Britain, and is doing extremely well in other European countries as well.
In addition to its long, strong and steady performance at the box office, Crouching Tiger, Hidden Dragon snared an amazing ten Academy Award nominations. Only Gladiator with 12 nominations secured more. And Crouching Tiger's nominations are not just window dressing, they include such key categories as best picture, best director, best screenplay, best cinematography, best art direction, best costumes, best score, and best song. If the film should actually manage to win a few golden statuettes and get an Oscar bounce at the box office, it could raise the bar for foreign language films considerably by surpassing $100 million in domestic U.S. box office.
The success of Crouching Tiger could easily spur interest in martial arts films in general as mainstream American audiences become enamored of kinetic combat scenes and begin to realize where all that stuff in The Matrix comes from.

Luc Besson's Kiss of the Dragon, which features the incomparable Jet Li, opens in July and could certainly boost the trend as well.

All kinds of products ranging from Hong Kong videos and DVDs from Tai Sing to the Bruce Lee Kubrick figures that Diamond is distributing could benefit from this increase in interest in martial arts films.

With plenty of books on Hong Kong cinema and wall scrolls featuring HK stars available, enterprising retailers should be able to take advantage of this rapidly growing trend.