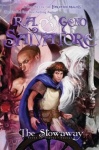 Wizards of the Coast has announced a decision to refocus the company's publishing program on its two core brands, Magic the Gathering and Dungeons and Dragons. WotC's 2008 publishing program will remain unchanged, but starting in 2009 any book not tied to Magic or D&D will be removed from the publishing schedule. This means that the Discoveries imprint will be discontinued at the end of 2008.
WotC's Mirrorstone imprint will continue to produce volumes for Dungeons & Dragons like the Practical Guide and the Dragon Codex series. R.A. Salvatore's Stone of Tymora trilogy, a new Forgotten Realms series for young adult readers will go on, but other series in the Mirrorstone imprint that do not support either Magic or D&D will not continue in 2009.
Wizards' efforts to refocus its book publishing efforts mirror changes announced earlier this week in WotC's online efforts—namely the elimination of its Gleemax social networking site in favor of full concentration on the Magic the Gathering and Dungeons & Dragons online games (see "WotC Pulls the Plug on Gleemax").