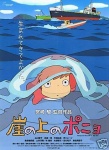 The prestigious Venice Film Festival, second perhaps only to Cannes among international cinema extravaganzas, has selected Hayao Miyazaki's new film Ponyo on a Cliff to participate in the main competition. The 65th canal-side festival takes place this year from August 27th to September 6th. Two other Japanese films were selected including Mamoru Oshii's anime adaptation of Hiroshi Mori's novel The Sky Crawlers, produced by Production I.G.; and Takeshi Kitano's Achilles and the Tortoise.
Miyazaki's new film, which eschews computer animation in favor of 170,000 hand drawings, has been the number one film at the Japanese box office for two weeks in row. Ticket sales for the first day were 83% of what they were for Miyazaki's Spirited Away, the most successful film in Japanese box office history. If Ponyo on a Cliff were able to maintain that percentage of Spirited Away's total throughout its run, it would earn some $235.9 million in Japan alone.
Though no announcements have been made yet, it is possible that Ponyo on a Cliff might receive a very limited release in the U.S. in 2008 so that it could qualify for the 2009 Academy Awards. It is extremely likely that the film will be released (both theatrically and on DVD) in North America in 2009, and it is likely to be one of the top-selling anime DVDs of next year.