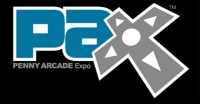 The Penny Arcade Expo (PAX) will be adding an East Coast show to its schedule in 2010. The event will be organized by Reed Exhibitions, the convention organizer behind New York Comic Con, New York Anime Festival, Book Expo America, and over 500 other events in 38 countries. The exact date and location of the show has yet to be determined, and it appears that the East Coast version will be in addition to the Seattle show.
Created by the folks behind the Penny Arcade Website, PAX is in its fifth year of operation. PAX 2008 kicks off August 29th. (PAX 2007 saw over 37,000 attendees and 50 exhibitors.) While videogames are the show's main focus, tabletop games have established a presence as well, with this year's show featuring several roleplaying and boardgaming events. Wizards of the Coast, Upper Deck Entertainment, Fantasy Flight Games, CCP/White Wolf, and Privateer Press are listed among the show's exhibitors.
With the Electronic Entertainment Expo (E3) out of the picture, a number of shows have been trying to establish themselves in that space, including Gen Con (see "Gen Con Courts E3 Biz"). PAX has been among the fastest growing of those shows. Now with Reed involved, and a show location for the new PAX show presumably in a larger metro area than Seattle, the PAX shows are going to offer a major bicoastal option for electronic and tabletop gaming exhibitors and fans.