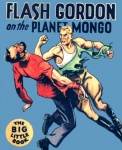 According to The Hollywood Reporter Sony is doing everything it can to get its live action adaptation of Alex Raymond's classic comic strip Flash Gordon to the big screen as quickly as possible. After acquiring the rights to the vintage science fiction property in a spirited, post Iron Man, bidding war in May (see "Sony Wins Flash Gordon Bidding War"), Sony has assigned the task of adapting Raymond's sprawling saga to the writing team of Matt Sazama and Burk Sharpless. Sazama and Sharpless are currently working on Dracula Year Zero for Universal and Cobalt 60 for 300/Watchmen director Zack Snyder.
The ultimate "buzzword" in Hollywood today is "franchise," and Sony is clearly hoping that Flash Gordon, which has a long and varied media career stretching from serials in the 1930s to a less-than-stellar 1980 movie adaptation to a recent Sci Fi Channel series, has big time potential if produced with care. According to The Reporter, Sony is keeping director Breck Eisner, who was attached to project before Sony acquired it.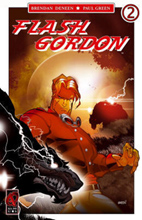 Checker Books is presently engaged in reprinting the
Flash Gordon
comic strips in a series of hardcover collections. Also the first issue of a new
Flash Gordon
comic book series written by Brendan Deneen and published by Ardden Entertainment debuts later this month with issue #2 due in September.