This is Part II of our coverage of the new McFarlane Toys line presented at Toy Fair this week. For an overview of the line and details and pictures of figures based on Shrek, sports celebrities, anime properties, and the works of Clive Barker, see Part I. For more graphics, from Akira, Movie Maniacs, rock and roll and videogame figures, see Part III.
H.R. Giger Diorama
Equally 'gothic' in outlook and inspiration are five 'pieces' based on the works of Swiss artist (and designer of Alien), H.R. Giger. One of these pieces, 'Li' is a stand alone statue, but the other four can either stand by themselves or be connected to form a 3-D diorama of Giger's 'The Passage Temple.' No other contemporary artist has been able to combine the organic and the mechanical as effectively or as sinisterly as Giger -- and this diorama captures the look and feel of Giger's strange creations. Though they wouldn't be nearly as much fun or as funky, one could imagine a Hasbro or a Mattel producing Shrek figures, but there is no way on God's green earth that those companies would ever create anything even faintly resembling this H.R. Giger diorama.
Movie Maniacs IV
This popular series of slashers, chompers, and masters of mayhem from the archives of the silver screen is back with a new twist. Todd McFarlane provides his own vision of the Blair Witch from the Blair Witch Project along with two excellent figures from Terminator 2, the Candyman from Candyman III, Jason X from the new film Jason X, and Evil Ash from Army of Darkness. To top it all off, there is the delightful box set featuring the scary shark attack on the boat from Jaws. Stores that find the Giger and Barker material too 'Goth,' can make hay with this more mainstream horror material which will hit the shelves in September and October. Also appearing in October are giant 18' figures of Leatherface from the Texas Chainsaw Massacre and Ash from Army of Darkness.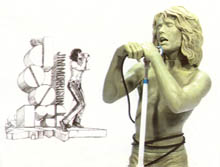 Rock On!
McFarlane's ability to identify and satisfy niche collector's market is nowhere more evident than in his popular series of rock 'n roll action figures. This year's exciting lineup includes a boxed set that recreates the stage set from Metallica's 1988 'And Justice For Tour' and includes figures of guitarists James Hatfield and Kirk Hammett, bassist Jason Newsted, and drummer Lars Ulrich. In addition to the figures and the stage set, the musician's instruments, amps, and drum kit are all faithfully reproduced. Also appearing this year in McFarlane's rock revival are the 'Lizard King' himself, Jim Morrison of the Doors, Angus Young, the hard-drivin' guitarist whose gut-wrenching hooks propelled AC/DC to prominence, Eddie the skeletal mascot who adorned each of the 16 Iron Maiden album covers, and of course the guitar hero behind the Grateful Dead, Jerry Garcia. And for those who go back to the 50s for rock 'n roll and classic custom car culture, McFarlane Toys is producing their own version of Big Daddy Roth's Rat Fink hot rods which will burn rubber all the way to dealer's shelves in August.
Videogame Figures
It's a major temporal shift from the custom hot rods of the 1950s to the video games of the 21st Century, but that's no problem for McFarlane Toys, which is producing two series of toys based on modern electronic games. McFarlane created its first line of Metal Gear Solid figures in 1999 and now they're back with Metal Gear Solid: Sons of Liberty. The six figure line includes: Solid Snake, Olga, Revolver Ocelot, Metal Gear Ray, and three other figures to be announced. Collectors who buy all six figures can build a seventh figure out of extra pieces included with each of the six original figures -- a very cool feature. Even more interesting is a series of six figures designed by Todd McFarlane himself for the new Ultima Online 2 computer game. Each of these figures displays the McFarlane touch, something that readers of Spawn will see immediately.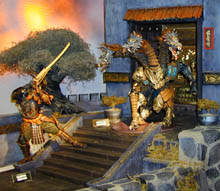 Spawn
Speaking of Spawn, what about the toys that started it all. McFarlane Toys is now producing the 19th and 20th series of toys based on his best selling comic creation. Spawn Series 19 is set in medieval Japan and it surpasses its predecessors in detail, paint, articulation and accessories. Particularly interesting is Jyaaku the Nightmare, a three-headed hell demon that comes in a deluxe box set and bears a striking resemblance to the great King Ghidrah from the Godzilla series.
For Series 20 McFarlane Toys went back to the Spawn comic book series and created six new figures using specific comic artwork as a strict reference for the figures. The result is superb valedictory for the entire 8-year run of this amazing toy line. (See also Part I of our McFarlane Toy Fair coverage.)