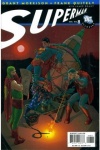 The 2008 Harvey Awards were announced at a ceremony at Baltimore Comic-Con last weekend. DC creators took the top three creative awards, Best Writer, Best Artist, and Best Cartoonist.
DC's All Star Superman not only took Best Artist, but also Best Single Issue or Story and Best Continuing Series. Dark Horse's Umbrella Academy won Best New Series; Image's Popgun won Best Anthology.
Four publishers split the top graphic novel spots—Oni, Marvel, Fantagraphics, and Dynamite.
The 2008 Harvey Awards:
Best Writer
Brian K. Vaughan
Y: The Last Man
Vertigo/DC Comics
Best Artist
Frank Quitely
All Star Superman
DC Comics
Best Cartoonist
Darwyn Cooke
The Spirit
DC Comics
Best Graphic Album—Original
Scott Pilgrim Gets It Together
Oni Press
Best Graphic Album—Previously Published
Captain America Omnibus, Volume 1
Marvel Comics
Best Domestic Reprint Project
Complete Peanuts
Fantagraphics Books
Best American Edition of Foreign Material
Eduardo Risso's Tales of Terror
Dynamite Entertainment
Special Award for Humor
Nicholas Gurewitch
Perry Bible Fellowship
www.pbfcomics.com
Best Online Comic
Perry Bible Fellowship
Nicholas Gurewitch
www.pbfcomics.com
Special Award for Excellence in Presentation
EC Archives
Various, edited by John Clark
Gemstone
Best Single Issue or Story
All Star Superman # 8
DC Comics
Best Biographical, Historical, or Journalistic Presentation
Reading Comics: How Graphic Albums Work and What They Mean
Douglas Wolk
Da Capo Press
Best Cover Artist
Mike Mignola
Hellboy
Dark Horse Comics

Best Letterer
Chris Eliopoulos
Daredevil
Marvel Comics
Best Colorist
Laura Martin
Thor
Marvel Comics
Best Inker
Kevin Nowlan
Witchblade
Top Cow/Image
Best Syndicated Strip or Panel
Doonesbury
Garry Trudeau
Universal Press Syndicate
Best Continuing or Limited Series
All Star Superman
DC Comics
Best New Series
Umbrella Academy
Dark Horse Comics
Best New Talent
Vasilis Lolos
Last Call
Oni Press
Best Anthology
Popgun Volume 1,
Edited by Joe Keatinge and Mark Andrew Smith
Image Books
Hero Initiative Lifetime Achievement Award
Nick Cardy
Presented by Todd Dezago