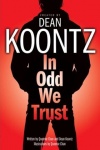 Del Rey has announced the acquisition of a second graphic novel based on Dean Koontz's Odd Thomas character. Like In Odd We Trust, the first Odd Thomas OEL manga, the new volume will be based on an original story by Dean Koontz, set in the time period prior to the events in the first Odd Thomas prose novel and be illustrated by Queenie Chan. Del Rey has not yet announced when the second Odd Thomas manga-style graphic novel will be released.
In Odd We Trust, which came out in June, made the BookScan list of "Top 20 Graphic Novels" sold in bookstores for the months of June, July and August (see "BookScan's Top 20 Graphic Novels for June," "July," and "August"). In Odd We Trust was also rated the #7 "Top Manga Property" in the forthcoming ICv2 Guide to Graphic Novels, which covers sales of manga during the third quarter in the comic shop and bookstore markets. It is one of a very small number of OEL (original English language) titles that has ever made it into the top ten on ICv2's "Top Manga Properties" list.
Graphic novels based on the works of popular authors such as Stephen King (The Dark Tower), Laurell K. Hamilton (Anita Blake), Erin Hunter (The Warriors), and Dean Koontz have definitely helped bolster sales over the past year and have done their part to keep the graphic novel category one of the few bright spots in the world of publishing.