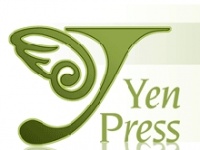 Hachette's Yen Press manga and graphic novel imprint will join Orbit, Hachette's science fiction and fantasy imprint, in a new division named Orbit, with Orbit's Tim Holman as VP and Publisher of the division, reporting to CEO and Chairman David Young. Holman had success with Orbit in the UK, where it is "the market-leading imprint," according to Young.
Kurt Hassler, formerly Yen Press Co-Publishing Director, will become Publishing Director; Rich Johnson, who was Co-Publishing Director with Hassler, will leave the company at the end of October.
Young explained the move. "We are of course sorry that Rich Johnson will be leaving the company," he said, "however as the Yen business has evolved, it has become clear that a single Publishing Director for the imprint is most appropriate."
Orbit's Alex Lencicki will be the Marketing and Publicity Director of the new Orbit division.
The Yen imprint will continue to develop independently as the manga and graphic novel imprint of the Orbit division.