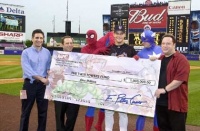 Marvel executives met New York Mets pitcher and Twin Towers Fund board member Al Leiter on the field at Shea Stadium in New York Tuesday night to hand over an oversized check for $1 million to the Twin Tower Fund. The money was raised by Marvel's three tribute/benefit books: Heroes, A Moment of Silence, and Amazing Spider-Man #36 (see 'Top Comic Stories of 2001'). Marvel COO Bill Jemas and EIC Joe Quesada represented Marvel at the ceremony.
Marvel was also represented by Spider-Man, who led the crowd in 'Take Me Out to the Ballgame,' mingled with the grounds crew, and hung out with Mr. Met. Spidey was last in the stadium 15 years ago for his wedding to Mary Jane.
Our thoughts?

This is too cool. Congrats and thanks to everyone at Marvel, the creators, and everyone at Diamond, Ronalds, and in every store across the country and around the world that made this happen.